Tax Perspectives
Please note that these publications may not be up-to-date as taxation matters are subject to frequent changes.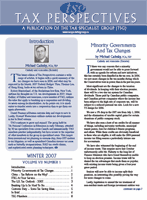 PDF Format

Issue Contents

All Issues
Winter 2007
Volume 7, Number 1
The information in Tax Perspectives is prepared for general interest only. Every effort has been made to ensure that the contents are accurate. However, professional advice should always be obtained before acting and TSG member firms cannot assume any liability for persons who act on the basis of information contained herein without professional advice.

ITSG At Your Service
The International Tax Specialist Group (ITSG) is a first cousin to the Tax Specialist Group (TSG), with overlapping membership, and common founders.

As the name implies, ITSG is an international group, focusing on international matters. Through ITSG, TSG member firms in Canada may access specialized tax expertise in the U.S., the Caribbean, Europe and Asia. Like TSG, ITSG holds an international conference each year for its members, which, in 2007, will be held in Toronto. Between 40 and 50 senior tax specialists from around the world are expected to attend.

Further information on ITSG can be obtained from the ITSG website at itsgnetwork.com.