Tax Perspectives
Please note that these publications may not be up-to-date as taxation matters are subject to frequent changes.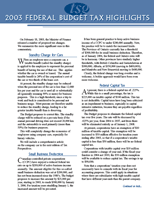 PDF Format

All Issues
Supplement 2003


2003 FEDERAL BUDGET TAX HIGHLIGHTS



On February 18, 2003, the Minister of Finance released a number of proposed tax changes. We summarize the more significant ones in this commentary.