Tax Perspectives
Please note that these publications may not be up-to-date as taxation matters are subject to frequent changes.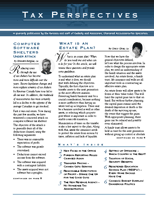 PDF Format

Issue Contents

All Issues
October 1997


Taxation of Social Security Benefits
By Howard Berglas, CA

Over the past few years, the taxation of social security benefits under the Canada-US Convention has changed not once, but twice. To clarify the new rules, we have produced this table.