Tax Perspectives
Please note that these publications may not be up-to-date as taxation matters are subject to frequent changes.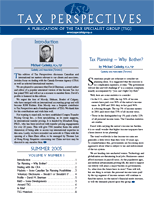 PDF Format

Issue Contents

All Issues
Summer 2005
Volume 5, Number 1
The information in Tax Perspectives is prepared for general interest only. Every effort has been made to ensure that the contents are accurate. However, professional advice should always be obtained before acting and TSG member firms cannot assume any liability for persons who act on the basis of information contained herein without professional advice.

Profile
David M. Sherman, LLB, LLM
David Sherman is a tax lawyer and one of Canada's best-known authors on income tax and GST. His Practitioner's Income Tax Act (published by Carswell) is widely recognized as the leading Income Tax Act in Canada due to his commentary and annotations. His other publications include:
Department of Finance Technical Notes
The Practitioner's Goods and Services Tax, Annotated
Canada GST Service
Canada GST Cases
GST Times
Basic Tax and GST Guide for Lawyers.
He has a technical knowledge of the GST unsurpassed in Canada, having written detailed commentary on every section of the GST legislation and every reported court decision relating to the GST.
When not busy updating his many publications, David provides consulting services, especially for tax disputes (audits, objections and appeals) involving GST. His encyclopaedic knowledge of the GST, income tax legislation, and case law enable him to come up with solutions to tax assessments that few others would find, and he has had tremendous success in having his submissions accepted by CRA auditors and appeals officers.
David's family lineage includes another well-known tax advisor, Arnold Sherman, our Calgary representative.