Tax Perspectives
Please note that these publications may not be up-to-date as taxation matters are subject to frequent changes.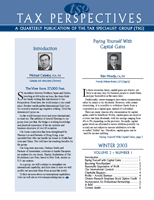 PDF Format

Issue Contents

All Issues
Winter 2003
Volume 2, Number 1
The information in Tax Perspectives is prepared for general interest only. Every effort has been made to ensure that the contents are accurate. However, professional advice should always be obtained before acting on the information herein.

Profile
Arnold Sherman, CA, TEP
Based in Calgary, Arnold Sherman has one of the most extensive private tax libraries in Canada, if not the world. As a consulting editor and advisory board member for the International Bureau of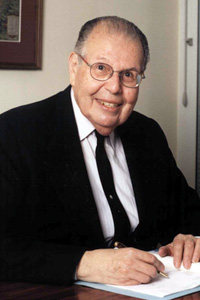 Fiscal Documentation (IBFD), Amsterdam, he reviews publications of the IBFD and has a complete set of their materials dating back several decades. The wall-to-wall coverage of tax journals in his office reflect Arnold's interests and expertise — knowledge of international taxation in over 60 countries. Arnold also teaches at the IBFD's affiliate, the International Tax Academy.
Originally from England, Arnold is a fellow of the Institute of Chartered Accountants of England and Wales. He also holds similar memberships in Canada, Cyprus and Israel, and is a member of the Chartered Institute of Taxation (U.K.) and the Society of Trust and Estate Practitioners.