Tax Perspectives
Please note that these publications may not be up-to-date as taxation matters are subject to frequent changes.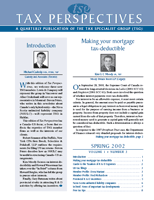 PDF Format

Issue Contents

All Issues
Spring 2002
Volume 1, Number 3
The information in Tax Perspectives is prepared for general interest only. Every effort has been made to ensure that the contents are accurate. However, professional advice should always be obtained before acting on the information herein.

Profile
Dora Mariani, CA, CFP
Dora Mariani, CA, CFP, is a tax manager with the TSG member firm Cadesky and Associates in Toronto. She practises in Canadian and international tax matters, with a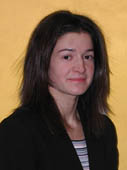 special emphasis on high net worth individuals, trusts, and executive compensation, where she can use her skills gained as a certified financial planner.
Dora is an editor of Taxation of Real Estate in Canada, a reporting service published by Carswell. She is a member of the Society of Trust and Estate Practitioners (STEP), the Canadian Tax Foundation, and the International Fiscal Association, as well as the Ontario and Canadian Institutes of Chartered Accountants. Dora's experience includes training with two international accounting firms and a year with a major Canadian financial institution, where she acted as coordinator of personal and trust income tax.