Tax Perspectives
Please note that these publications may not be up-to-date as taxation matters are subject to frequent changes.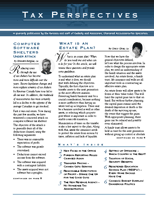 PDF Format

Issue Contents

All Issues
October 1997


New Faces in the Office
Effective October 1, Jonathan Richler and Christina Tari joined us as Principals and will consult on various tax matters. Coming from legal backgrounds, they will practice as Richler and Tari, Tax Lawyers.
Jonathan L. Richler, LLB
Richler and Tari Tax Lawyers Jonathan Richler has been practicing tax law for over 10 years. He has been active with the Canadian Tax Foundation, and is an editor of the Taxation of Real Estate in Canada service.
A. Christina Tari, LLB, LLM Richler and Tari Tax Lawyers
Christina Tari's background is in tax litigation, having practiced with the Department of Justice representing Revenue Canada's side of the issue for the past 9 years. She is the author of a book on tax litigation, a university lecturer, and holds a Masters Degree in Tax Law.