Tax Perspectives
Please note that these publications may not be up-to-date as taxation matters are subject to frequent changes.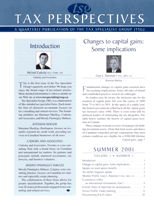 PDF Format

Issue Contents

All Issues
Summer 2001
Volume 1, Number 1
The information in Tax Perspectives is prepared for general interest only. Every effort has been made to ensure that the contents are accurate. However, professional advice should always be obtained before acting and TSG member firms cannot assume any liability for persons who act on the basis of information contained herein without professional advice.

Service Profile: Estate Planning
Appropriate and timely estate planning is critical to maximizing long-term family wealth. Too often the pressures of modern life leave little time and energy for personal planning. This planning gets neglected, postponed, or pushed aside until it is too late.
We are very experienced in designing, implementing, and monitoring estate plans. When entrusted with such a project, we
prepare a summary of the client's major assets and liabilities, and evaluate the tax consequences involved in passing these assets to the next generation;
review the client's will and determine the family's personal wishes with respect to the succession of assets;
determine whether there is a need for insurance and the type of insurance, and suggest an amount;
develop an estate plan, which may involve an estate freeze or a gifting program;
coordinate the implementation of the estate plan;
recommend revisions to wills to enhance the effectiveness of the tax planning and lighten the tax burden on the estate and heirs; and
recommend an approach to investment, and introduce investment advisers if required.
Often a plan can be designed to pass on a family business to children on a tax-free basis.
However, this takes many years to fully implement, so it is important to start the process early.
We monitor estate plans year by year to make sure everything is on track. We often adjust a plan for changing financial circumstances; changing family, financial, and personal objectives; and changing tax laws. We also give periodic updates on how the plan is evolving and whether it is meeting its objectives.