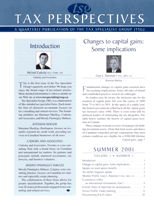 PDF Format

Issue Contents

All Issues
Summer 2001
Volume 1, Number 1
The information in Tax Perspectives is prepared for general interest only. Every effort has been made to ensure that the contents are accurate. However, professional advice should always be obtained before acting and TSG member firms cannot assume any liability for persons who act on the basis of information contained herein without professional advice.

Member Profile: Gary L. Bateman
Gary L. Bateman, P Eng, MBA, CA
One of Canada's foremost authorities on R&D tax incentives
Gary Bateman, founder and senior partner of Bateman MacKay, Chartered Accountants, combines his engineering background with his accounting and tax skills to produce a valued client service. Understanding technology, accounting, and tax gives Gary a unique perspective on assisting clients in obtaining R&D tax credits.
Gary is one of Canada's foremost authorities onR&Dtax incentives, having authored the Guide to the Taxation ofR&D Expenses, a loose-leaf professional reporting service published by Carswell.
He is also author of the popular paperback A Declaration ofTaxpayer Rights.
With his extensive teaching experience, Gary has trained his professional staff of eight on the intricacies ofR&D tax credits. The group consults to over 200 clients across Canada on how to maximize federal and provincial R&D tax incentives.
A detailed description of Gary's R&D services can be found on our Web site.