Tax Perspectives
Please note that these publications may not be up-to-date as taxation matters are subject to frequent changes.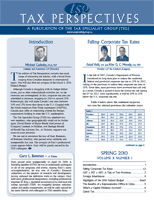 PDF Format

Issue Contents

All Issues
Spring 2010
Volume 10, Number 1
The information in Tax Perspectives is prepared for general interest only. Every effort has been made to ensure that the contents are accurate. However, professional advice should always be obtained before acting and TSG member firms cannot assume any liability for persons who act on the basis of information contained herein without professional advice.

Gary L. Bateman – A Tribute
Gary passed away unexpectedly on April 18, 2009. A founding member of TSG, he was an enthusiastic participantin all of our programs and events. Among Gary's many accomplishments, he was one of Canada's foremost authorities on the taxation of research and development, having authored the definitive work on the subject. Gary held many professional designations, including professional engineer (P. Eng.), chartered accountant (CA) and trust and estates specialist (TEP). An insightful lecturer, educator, author and media commentator, he will be sadly missed by his many friends and colleagues in TSG member firms.