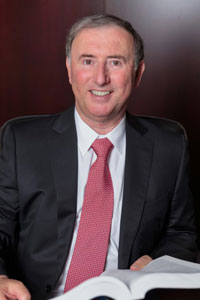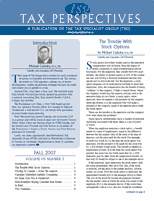 PDF Format

Issue Contents

All Issues
Fall 2007
Volume 7, Number 3
The information in Tax Perspectives is prepared for general interest only. Every effort has been made to ensure that the contents are accurate. However, professional advice should always be obtained before acting and TSG member firms cannot assume any liability for persons who act on the basis of information contained herein without professional advice.

Introduction
By Michael Cadesky, FCA, TEP
Cadesky and Associates LLP (Toronto)
This issue of Tax Perspectives contains its usual assortment of articles on Canadian and international tax. The articles, all written by TSG members, inform you of recent developments, outline tax planning strategies that may be useful and caution you on pitfalls to avoid.
Around TSG, it has been a busy year. We welcome back Kim Moody who had previously merged his practice with a national accounting firm. Kim started Moody's LLP in Calgary this October.
The Ruchelman Law Firm, a New York based tax law firm, has opened a Toronto office. It is headed by Edward Northwood, a well-known U.S. tax lawyer who specializes in cross-border estate planning.
Peter Weissman has joined Cadesky and Associates LLP as a partner and will be based in their new downtown Toronto office. Grace Chow has become Chair of STEP Canada, and has joined Larry Frostiak and John Poyser as co-author of the Practitioner's Guide to Trusts, Estates and Trust Returns, published by Carswell.
Lastly, our sister organization, the International Tax Specialist Group (ITSG) will hold its Worldwide Conference in Toronto in November. Representatives from 25 countries are expected to attend.