Tax Perspectives
Please note that these publications may not be up-to-date as taxation matters are subject to frequent changes.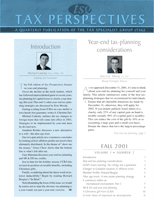 PDF Format

Issue Contents

All Issues
Fall 2001
Volume 1, Number 2
The information in Tax Perspectives is prepared for general interest only. Every effort has been made to ensure that the contents are accurate. However, professional advice should always be obtained before acting and TSG member firms cannot assume any liability for persons who act on the basis of information contained herein without professional advice.

Profile
Howard Berglas
Howard Berglas is a partner and a founding member of Cadesky and Associates in Toronto. He is known for his approachable manner, his negotiation skills, and his wide repertoire of tax-planning techniques.
Howard has written and lectured extensively, for organizations including the Society of Trust and Estate Practitioners (STEP) and the Canadian Tax Foundation. His areas of expertise span tax disputes, owner-manager issues, tax shelter syndications, and international tax planning.