Tax Perspectives
Please note that these publications may not be up-to-date as taxation matters are subject to frequent changes.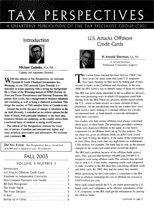 PDF Format

Issue Contents

All Issues
Fall 2003
Volume 3, Number 3
The information in Tax Perspectives is prepared for general interest only. Every effort has been made to ensure that the contents are accurate. However, professional advice should always be obtained before acting and TSG member firms cannot assume any liability for persons who act on the basis of information contained herein without professional advice.

Bill Daye Recognized
In our last edition, we welcomed Bill Daye and his firm to the Tax Specialist Group. We now recognize him for a distinguished achievement.
Bill was recently made a Fellow of the Institute of Chartered Accountants of Alberta (FCA designation). This is the highest designation awarded to Chartered Accountants.
Bill received his CA designation in 1970. He is a highly respected and dedicated professional, who has devoted his time and talent to benefiting his community, his profession and his firm. While building his own firm, he has still found time for extensive volunteer work with Big Brothers and Sisters of Edmonton, serving as President of the Board and Chair of the Strategic Planning Committee. Professionally, Bill's major leadership role has been in the area of tax specialization. It is indeed notable that Bill was chosen by the CICA to lead the tax specialization initiative as Chair of the CICA Tax Alliance Board. Outside of the tax area, Bill has also served the profession as a long-time investigator for Conduct and Discipline matters with the ICAA, and as a member of the Registration and Member Recognition Committees. His contributions in all of these areas make him a true asset to the profession.
From all the members of TSG, congratulations!